SCOLIOSIS & STRUCTURAL IMBALANCE SELF-ASSESSMENT
SCOLIOSIS AND STRUCTURAL IMBALANCES
---
Scoliosis is a lateral and rotational curvature of the spine in the shape of an "S" or a "C" curve.
Both have been corrected with spinal fusions in the pictures below.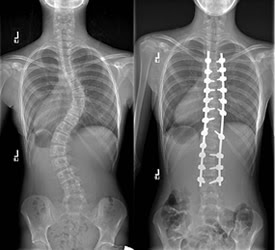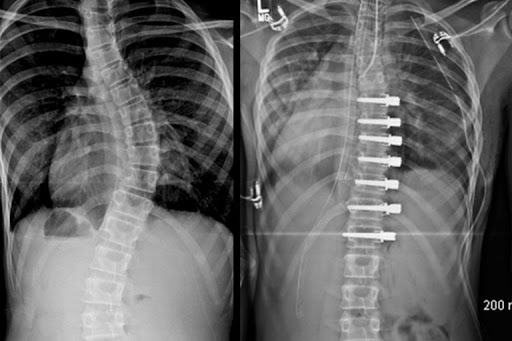 Scoliosis may develop from birth or acquired from poor posture/compensation patterns during adolescence, puberty and adulthood.
Structural imbalances will develop from poor posture and unhealthy compensation patterns.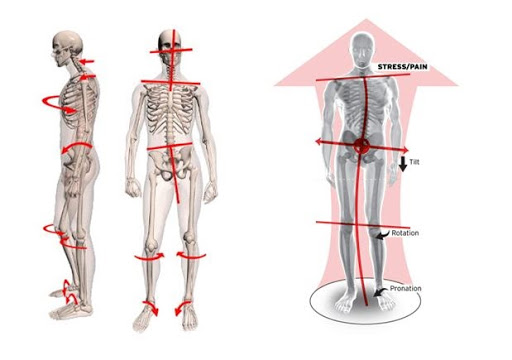 Structural imbalances may suggest or develop in to a scoliosis because of the increase in fascial tension and musculoskeletal disparity between our:
front & back bodies

right & left bodies

right front & left back bodies

left front & right back bodies

right front & right back bodies 

left front & left back bodies

 Any combination of the above. 
These structural imbalances may be visually apparent and physically felt.
HOW DOES THIS HAPPEN? FASCIAL TENSION!
This is what our fascia looks like.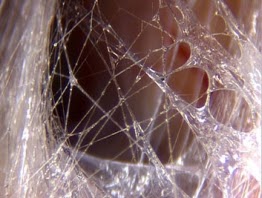 Think of your skeleton floating in a sea of connective tissue (or a spider web), aka fascia. Now add into this sea of connective tissue (or spider web) your organs, blood, nerves, lymph system, muscles and skin. Every structure in our body is floating and this is because of TENSION + INTEGRITY = TENSEGRITY.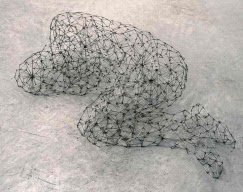 The basic structure of fascia is a triangular shaped-nonlinear model that looks kind of like a spider-web. Fascia takes this shape because the triangle is the strongest geometric shape. If one side of this triangle breaks, it adopts another side. The triangle will change its shape to a wider triangle or a longer triangle but it always maintains its tensional integrity.  The goal of this TENSEGRITY MODEL of our fascia  is to normalize the tension in the whole body to keep us upright. 
HOW DOES FASCIA CONTINUE TO NORMALIZE THE BODY?
Through MOVEMENT! 

Fascia reduces friction allowing structures to glide over each other during movement! 

 When fascia gets twisted, contorted or dehydrated our nerves, blood vessels, lymph, muscles, bones and organs get stuck.

This can cause our organs to malfunction because they cannot receive the proper communication from our nervous system, receive nutrients, and oxygen from our circulatory system or remove toxins from our lymph system. 

This can cause blood to get trapped or back up.

This can cause our muscles to get tense, cramp or constrict

This can impinge our nerve roots causing PAIN!

FASCIA MAINTAINS BIOCHEMICAL INTEGRITY OF ALL STRUCTURES AND REDUCES INFLAMMATION AND IRRITATION OF OUR TISSUES.
WHAT DOES THIS HAVE TO DO WITH SCOLIOSIS AND STRUCTURAL IMBALANCES?
Correcting our structural imbalances and scoliosis (as close to normal as possible) is imperative to maintaining healthy tension on our fascia.  If we continue to indulge our compensation patterns due to our structural imbalances and scoliosis, our fascia will continue to change its shape to maintain its tensional integrity to maintain us upright. This is at the expense of our internal organs, muscles, blood, nerves, lymph and bones. This phenomenon equals POOR POSTURE and a WORSENING OF OUR POSTURE, PAIN, DISCOMFORT, DISEASE AND DIS-EASE.
HOW DOES THIS DOMINO EFFECT HAPPEN?
Many adults with no genetic or hereditary predisposition to scoliosis will acquire it from: (this is a limited list).
Collapsing of one of our inner ankles (very common).

Carrying a heavy purse or luggage on one shoulder.

Sitting unbalanced in the car, at your desk, on a wallet and/or crossed legged.

Participating in unilateral sports like tennis, golf and baseball.

Relying only on your dominant side to accomplish tasks.

Propping up on one leg while standing.  

Carrying your child on one hip.
It is important to know if you have scoliosis or a structural imbalance before any exercise program so you can correct your unique compensations patterns, and avoid injury. 
Correcting our postures with scoliosis and a structural imbalance is slightly more challenging. The sensory cells and receptors in our joints have been giving our brain incorrect information as to where our body is in space for a long time. Your brain wants to keep your eyes level. In order to do that, your structure/spine has to zig zag back and forth to keep your eyes level, creating an imbalance in our musculature. We need to unlearn this incorrect information and relearn what is correct. We need to make your sensory cells in our ligaments smarter so we will go back to the basics learning how to stand with awareness in our bodies.
Proprioceptions & awareness, mobility and strength are all of utmost importance to develop, maintain and support our structure. Ultimately, our structure always dictates how our body functions.
In this video, you will learn:
Where your physical structure is in space.

Your scoliotic or structural imbalance compensation patterns.

OR you will learn that you do not have scoliosis or a structural imbalance, fingers crossed!
What you will need to participate:
Bare feet, no shoes, no socks.

A device to video your gravity line and forward fold test.

A friend/partner or camera stand to video yourself.
Please be brutally honest when answering THE SCOLIOSIS GRAVITY LINE SELF-ASSESSMENT QUESTIONNAIRE. There is NO CORRECT answer!
**PLEASE NOTE: IF YOU THINK YOU MAY HAVE SCOLIOSIS OR A STRUCTURAL IMBALANCE EITHER BEFORE OR AFTER THIS EXERCISE PLEASE SEE YOUR PHYSICIAN FOR EVALUATION AND PROPER DIAGNOSIS. THE SCOLIOSIS AND STRUCTURAL IMBALANCE LECTURE, EXERCISE VIDEO AND SELF-ASSESSMENT QUESTIONS ARE FOR EDUCATIONAL PURPOSES ONLY.  THEY ARE NOT TO BE USED FOR NOR INTENDED FOR THE DIAGNOSIS OR TREATMENT OF ANY MEDICAL CONDITIONS.**